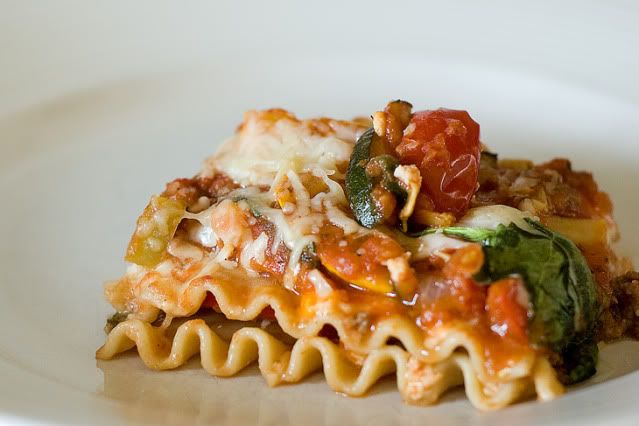 I posted this recently on my family blog, so my apologies if it's a repeat for some of you, but I thought maybe the others would like it, and I already had the pictures and recipe on my blog so it was easy to move it over!
This has become one of my favorite things to cook and serve. I made it up myself... and I've tried and tested it several times now and every time it comes out tasting delicious! You can add sausage if you don't like to go all vegetarian. Enjoy!
Ingredients:
Fresh Veggies: squash, zucchini, onions, red and green bell pepper, fresh or jarred garlic. spinach Fresh or canned tomatoes... *important: if you don't have garden tomatoes use canned... don't try store bought, they are just nasty. They don't even taste like real tomatoes and you won't like it.* 1 can any spaghetti or marinara sauce, 1 small container of ricotta cheese or cottage cheese (I have used both, they both taste good. I always use the low fat variety.) Fresh grated Parmesan cheese, mozzarella or Italian blend shredded cheese, whole wheat lasagna noodles boiled, al dente.
Method:
Chop all veggies.
Start cooking, garlic and onions first, add squash, zucchini,pepper,etc. season with salt and pepper and a little dash of Mrs Dash original blend. I always start with just a tiny bit of olive oil and then pour a little bit of chicken stock to steam the veggies so they don't get all crispy and burned. They cook faster this way and it adds flavor.
When the veggies are still a bit firm, but mostly cooked (not soggy!) add spaghetti sauce.
Next I prepare the pan and the noodles. Starting with one layer of noodles, ricotta cheese on top, thin layer of spinach leaves, then sauce and a small amount of cheese. Reapeat. Top with spinach leaves and mozzarella and parmesan cheese.
Bake it at about 350 until it looks and smells done! Sorry, I'm so terrible with cooking times, it's really about 30 minutes. Cover it with foil for the first half of cooking so the cheese doesn't brown too early and burn. Let stand for a few minutes, serve and enjoy! Eat your veggies! :)