For some reason I can't comment on this blog anymore? Has anyone ever had something like that happen? I can't comment randomly on a few friends blogs, but my comments never ever post on this one, so just so you know, I still read and I've tried several of your recipes and they are good. Liz's potstickers where tasty, and there where lots of other things that I typed comments on that looked so good, but my comments dissapear as soon as I click to post it.
ANYWAY...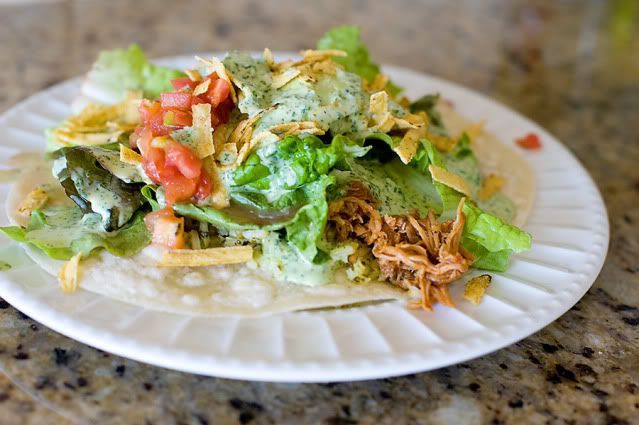 It's a labor of love, but so worth it. Here ya go:
Cafe Rio-like Salad

[ LIME-CILANTRO RICE ]
1 Tbsp. oil
1 cup long grain rice (2 cups chicken broth... add more if it boils out too fast.)
1 bunch cilantro, finely chopped
juice of 2 limes
2 tsp. crushed garlic
Heat oil in a large skillet. Add rice, cilantro, and garlic. Saute 3-5 minutes, stirring frequently. Add broth and lime juice and bring to boil. Then reduce heat and simmer until all the liquid is absorbed by the rice (about 20 minutes). You could use a rice cooker
[ CAFE RIO PORK ]
pork roast
1 (16 oz.) bottle of salsa
1 can coke
2 c. brown sugar
Place pork in crock-pot and fill it half way up with water. Cook roast on high for 5 hours. Drain off water. Cut pork in thirds. Mix together ingredients (salsa, coke, brown sugar) and put on top of pork. Cook an additional 3 hours on high. Shred pork with forks. Leave it on low until ready to serve. (I tend to use a less sugar, like half that amount.Still tastes fine to me.)
or
[Cafe Rio Chicken]
3 lbs boneless, skinless chicken breasts
1 1/2 c Italian dressing
1T minced garlic
1 T chili powder
juice from one lime
1/4 c fresh cilantro, chopped
Throw it all in the crockpot for at least 6 hours. Stir it every now and then. If you need more liquid add some chicken broth during cooking. Just don't let it get too dry.
[ CREAMY TOMATILLA SALAD DRESSING ]
1 packet hidden valley ranch buttermilk dressing
1 c. buttermilk
1 c. mayo or sour cream
2-3 tomatillas (peel off outer leaf/shell)
1 tsp. crushed garlic
¾ bunch fresh cilantro
1 tsp. cayenne pepper
juice from 1 lime (about 2 tsp.)
salt & pepper
Blend all ingredients in the blender. Refrigerate.
*TIPS: don't use miracle whip or fat free. It will taste like yucky off brand ranch with something weird going on. Use real regular Mayo and I usually just get a little pint of buttermilk, they are only like 50 cents.) Even if you think you don't like cilantro, do not omit the cilantro. That is what makes it taste the way it does. It took me two tries to figure that out. (Turns out I don't hate cilantro, I just don't like it by itself or as a garnish.)
ASSEMBLE
We don't by prepared tortillas anymore, just because after buying the "cook yourself" type you can find in the deli section of the grocery store, the prepared and finished type taste like paste. Get the cook yourself type, you'll be so glad you did and it will taste more authentic. I haven't found a perfect method for homemade tortillas yet, I can't get them thin enough, but we're still working on that one.
So... Tortilla, Rice, Beans (black or pinto!), meat, chopped romaine lettuce, crispy tortilla strips, guac, and instead of pico de gallo I just add a little drop of fresh cut salsa. You can usually find it in the produce section. Then top with dressing.
We can eat off of this for several days. I usually separate the cooked meat into 3 freezer safe containers and freeze it to use for next time and it cuts down on prep time.